a preserved territory to protect
It is a haven of calm and nature waiting for you here!
The calanques of Marseilles, extend over twenty kilometers of coast. From our Small Hostel in the district of La Madrague  to the town of Cassis, passing by The Goudes and Callelongue, you can discover these magnificent natural resources, treasure of our region. With its majestic cliffs, endless sea and exceptional fauna and flora, you will be immersed in a dream setting.
Protected since 2012 by the regulation of the national park of the Calanques, its access is limited by prefectoral order from June 1 to September 30.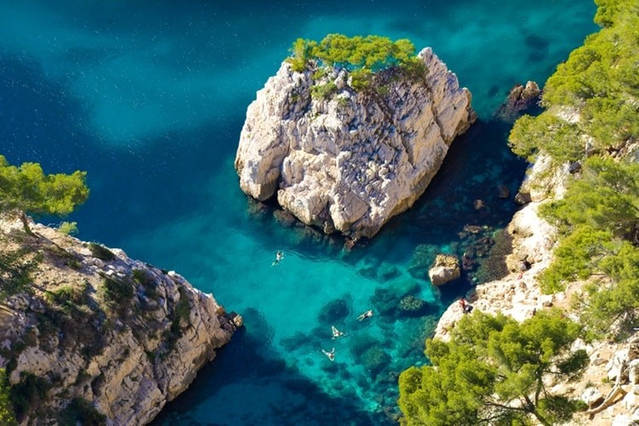 The calanque de Marseilleveyre
Beach of small pebbles and sand, a few cabanons and a bar restaurant supplied by the sea, it will offer you one of the most beautiful panoramas of the massifs on the archipelago of Riou. Its vegetation composed mainly of aloes, figs of barbaric and grass.
The Island of Riou
Main island of the archipelago of Riou, it offers a sandy beach and a pebbles. Gulls and other species give it a special atmosphere. And for lovers of diving, one finds tombs of more than 70m, numerous caves as well as ancient wrecks.
The port of Callelongue
In dead end, located at the end of the roads South of Marseille. A parking and the terminus of a bus allow you to discover the calanques from different departures of hiking trails: it is here that begins the wild …
The  Goudes
A winding road by the sea sets the scene and takes you to a real fishing village at the end of Marseilles. An exotic place decorated by numerous bar restaurants, cabanons and fortifications that offers a 360 ° view.
The calanque of Morgiou
A lot of depth, sheds, fishermen, small beaches … a map postcard that will lead you to Cape Morgiou by the old GR and even join Sugiton.
The calanque of Port-miou
Without even leaving the harbor, you are already in the calanques. The calanque is a shelter for ships (500 anchorage around the year) and is the only accessible by car. It is home to freshwater springs, a magnificent pine forest and a striking contrast between white limestone, ocher cliffs and turquoise blue sea. Starting point of a hiking trail, the GR 98, You will be able to traverse the calanques Marseille in less than eight hours of walking depending on your level.